Plan Shop Cook
Perfecting Joe Wick's 90 Day Plan with an easy to use App
PLAN SHOP COOK was created to help empower users who don't normally cook from scratch to enjoy a healthy home-cooked meal. This app is meant to help you follow a meal plan based on your goals, activity levels, health conditions and dietary requirements.
Imagine using an app that saves you time and keeps you staying organized while helping you follow a tailored transformation program.
The problem is that this program has hundreds of tailored recipes but no way to quickly navigate them. On top of that, it takes a lot of time and effort to plan, organise and follow this program.
How it started
Back in March 2020 when lockdown 1.0 was in full swing, I decided to join Joe Wick's 90-Day Body Coach programme.
In a nutshell, The Body Coach is a 90 days body transformation program where you get 5 new workouts and around 60 new recipes every 30 days, with food portions tailored individually.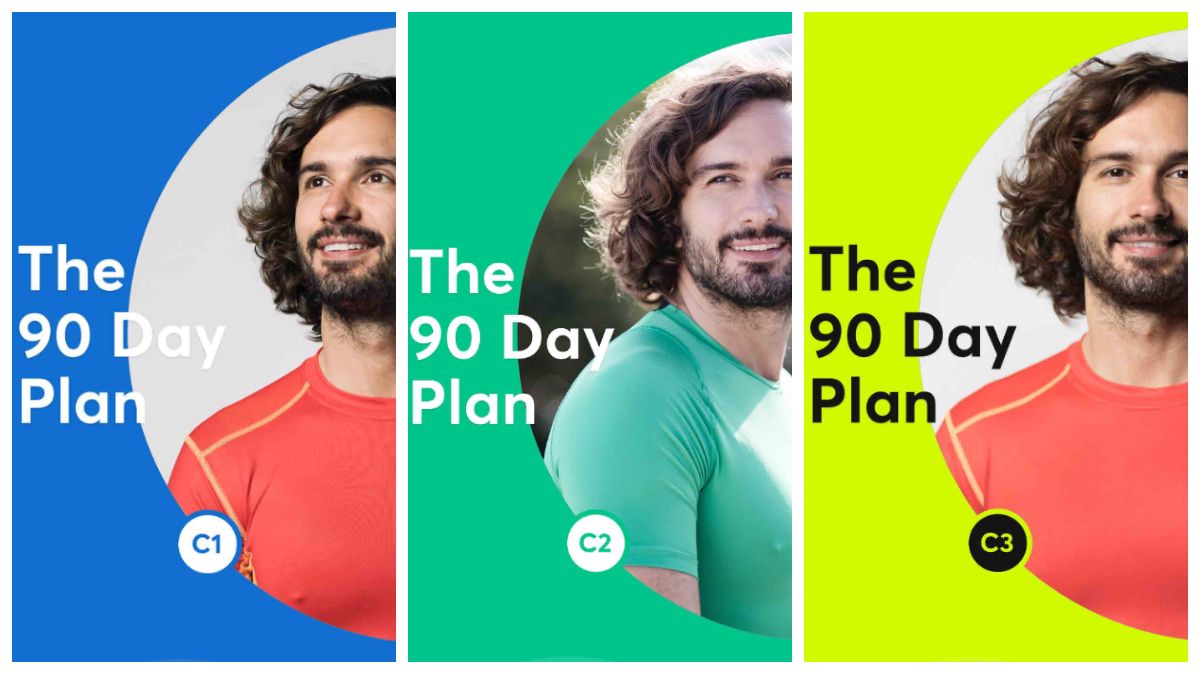 Although this program is over 3 years old and has over 600K body transformations stories it has one major flaw - it comes in a PDF format.
It took me over four hours every week to plan and shop for the recipes.
It's exhausting to copy and paste the ingredients from each recipe, multiply it by how many portions you plan to cook and also for how many people. An app urgently needed to happen.
The challenge
Capture all the flavours into an easy to to use app
The challenge was to create a user-friendly app that captures Joe's fitness program. The goal was to simplify the process of following the program's recipes received via email with a PDF attachment. However, the user experience was complicated. The high-level goals were to make planning, shopping, and cooking weekly meals fast and easy, as well as provide insights and feedback on the program's impact.
Discovery
Customer insights
I had a clear mission from the outset of the project.
How can I make the planning, shopping and cooking experience easier at home for everybody?
Without any existing Google Analytics or stakeholder interviews, I decided to start with Joe Wick's Facebook group page and get as many insights from there as possible. I did six Zoom depth interviews with Body Coach customers I found on the group.
My goal was to understand the challenges they faced when planning, shopping and cooking at home. I also wanted to know what takes priority in a meal planning app, and gain insight into their smartwatch usage.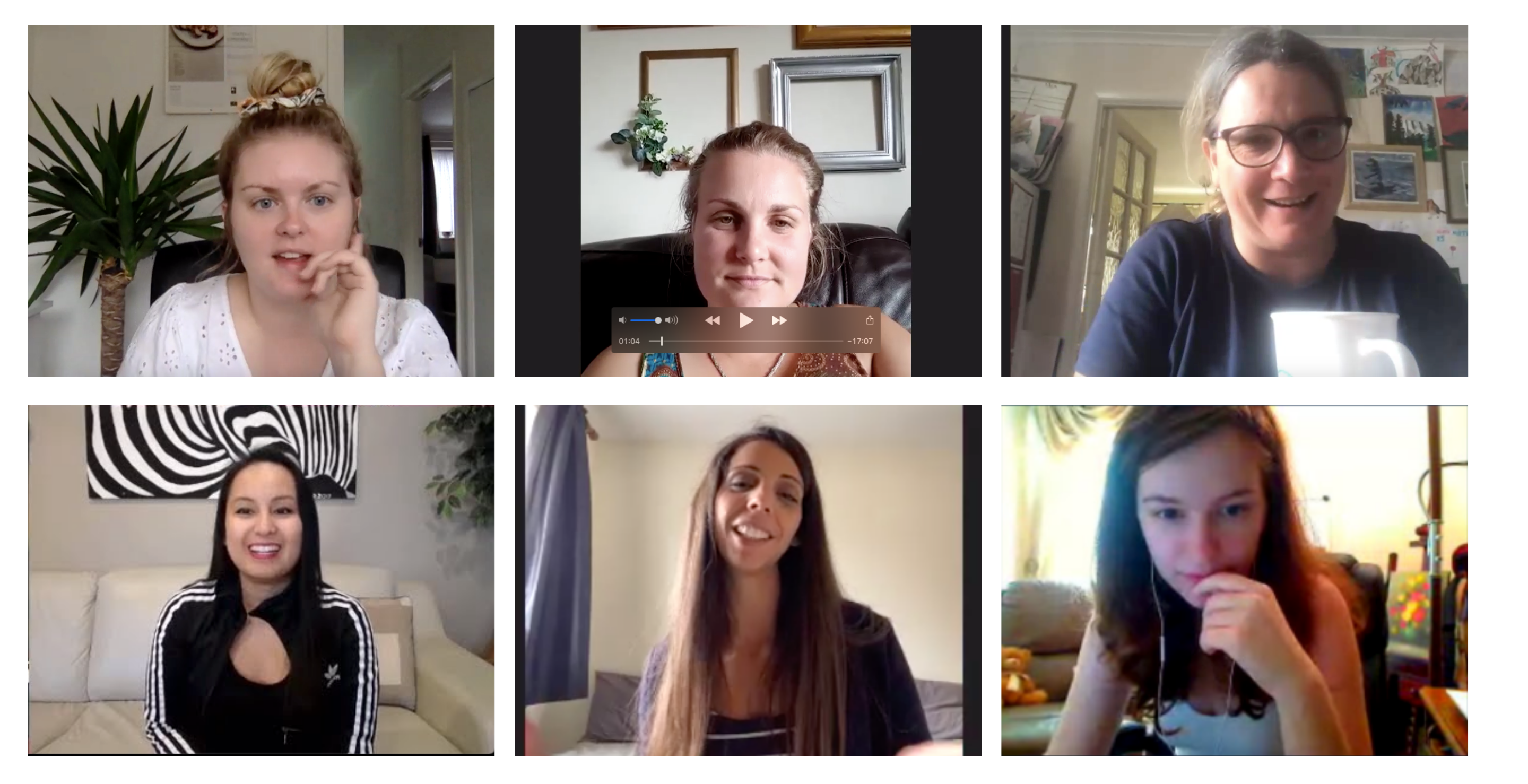 To identify patterns in how the users follow the plan, I relied on the quantitative data gathered from 40 answered questionnaires.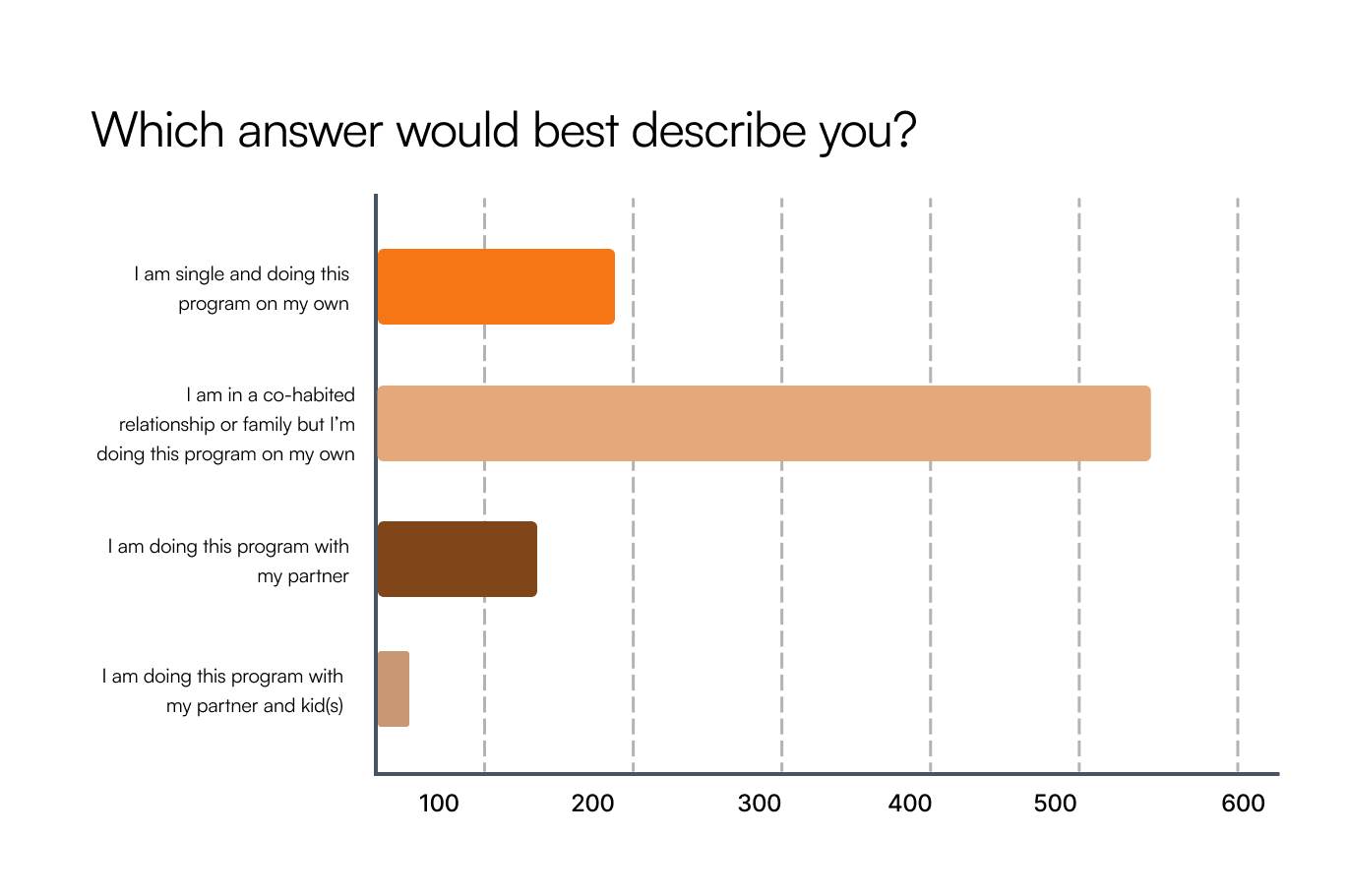 The insights
Users found meal planning overwhelming, especially when managing long ingredient lists without family participation.

Writing down grocery lists on paper was frustrating and time-consuming, especially for multiple people.

Ingredient swapping was difficult without clear guidance.

Most users cook more than 3 CYO meals per week, prioritizing batch-cooking recipes with leftovers.

Online grocery shopping is common, especially for those without a car.
Reframing the problem
After reviewing all the touchpoints and customer channels, I broke the journey into five phases: plan the week, choose meals, shop, prep the ingredients and cook the food.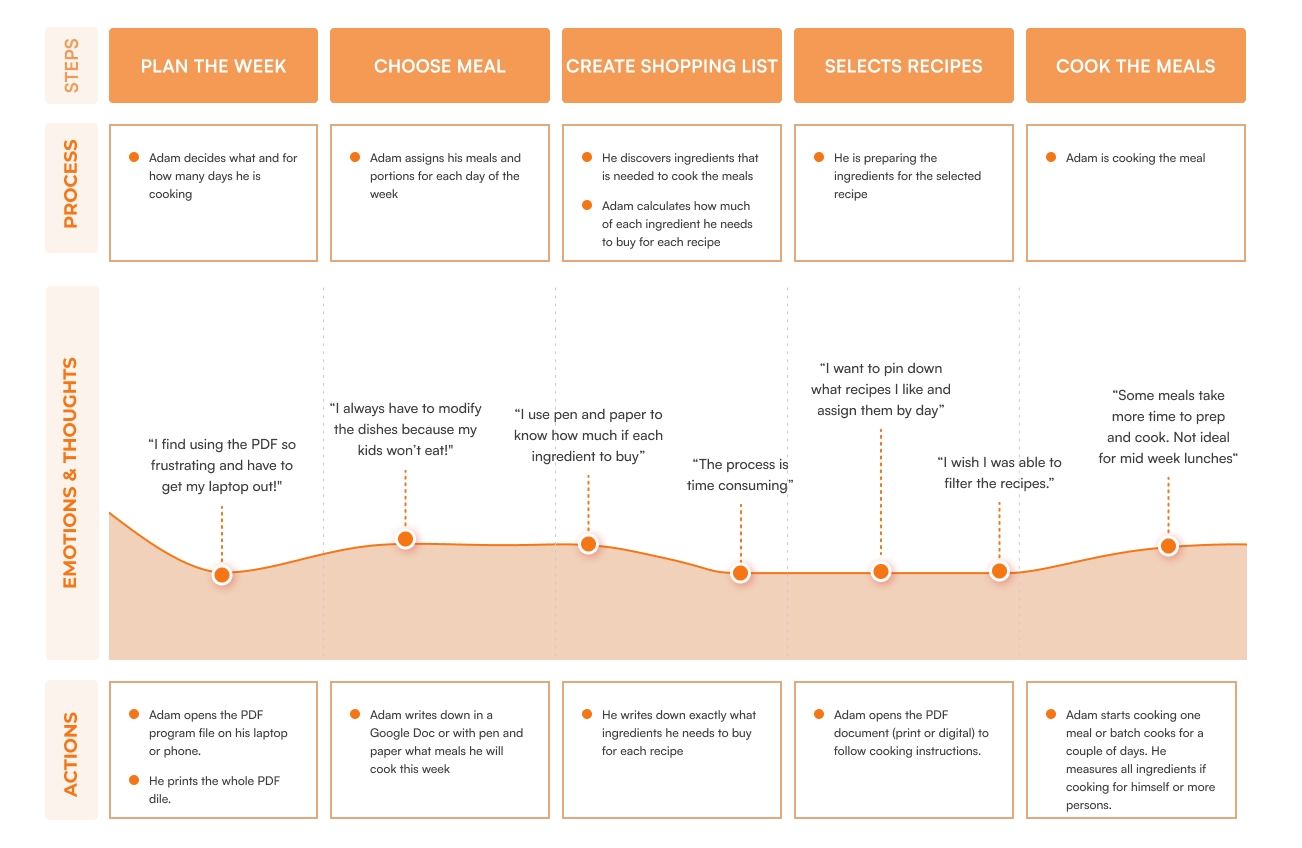 The Vision
Food planning made easy
My vision was to create an easy-to-use app for an evolving business with a diverse range of end-users. I wanted the users to drop pen-and-paper food planning and instead use this time better.
Through the app, I envisioned the future of the Joe Wicks program — and the weekly shopping experience — to be deeply personalised to customers' food tastes and habits.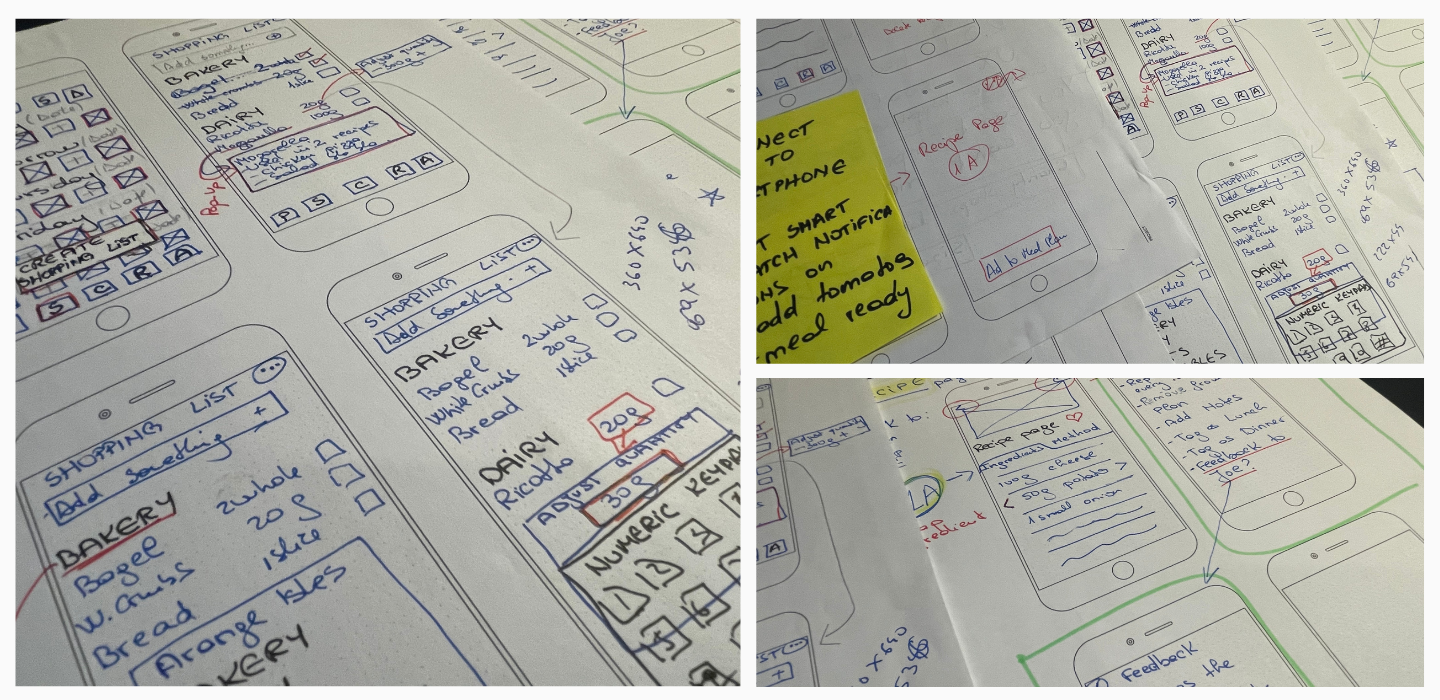 Design strategy
Perfecting the planning
Three primary questions informed my design strategy:
How might we take the effort out of meal planning?

What shopping contexts need to be considered?

How can we make the cooking experience better?
I mapped out the steps in each of the key user journeys.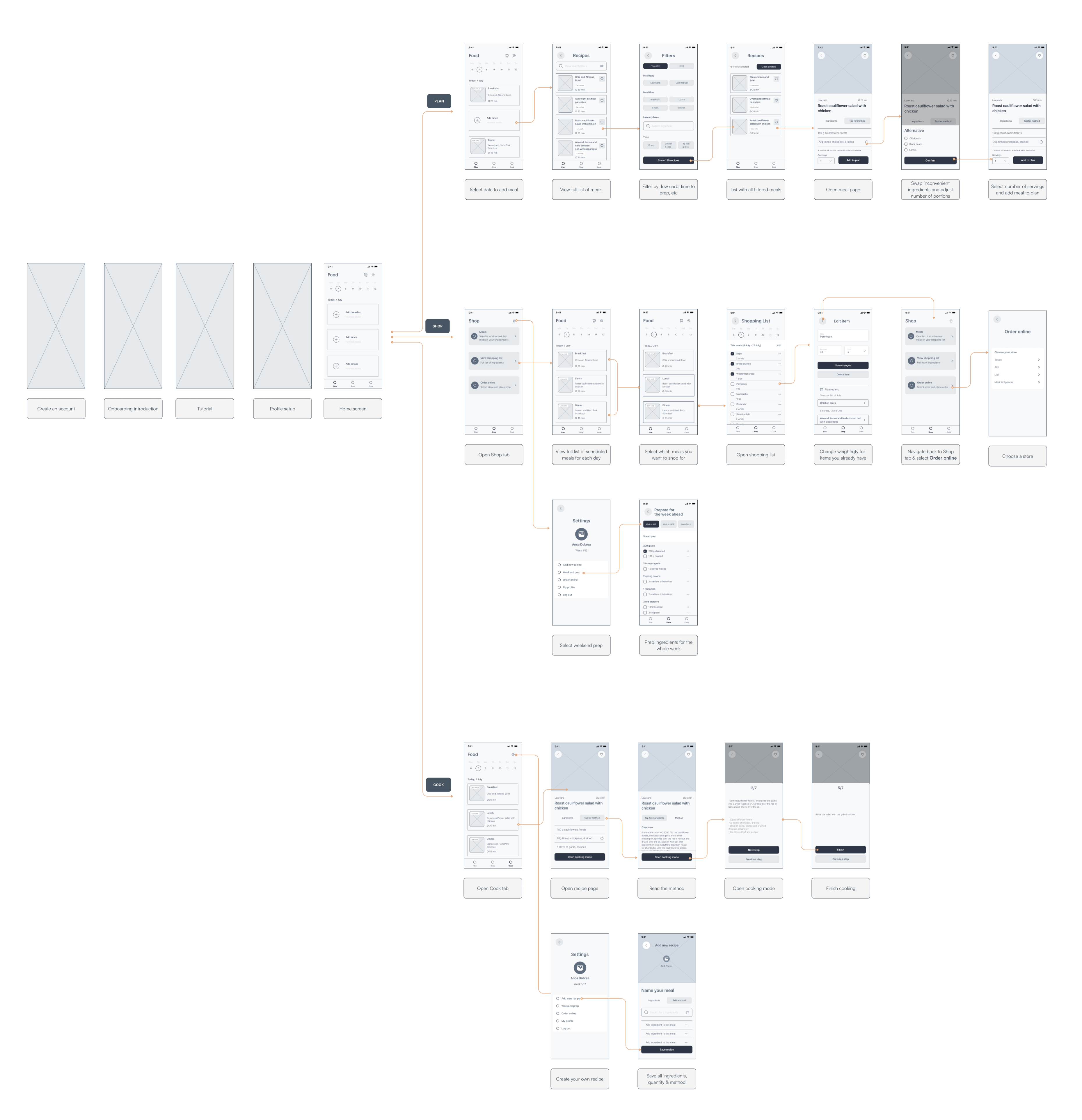 The user flow map helped me shift from unproductive questions like
"How is this app going to help people lose weight?"
to
"How might we empower users who don't normally cook from scratch to enjoy a healthy home-cooked meal?"
Chaotic to organised
A significant reason for chaotic meal planning is that users often have to look after meals for other family members too. Those family members typically have different food preferences and don't want to follow the Body Coach program. This causes the user to be inconsistent and overwhelmed by the overall process.
The research data revealed that:
83% of users have children

68% are cohabiting but do the program alone

55% regularly swap ingredients on the list
Based on these insights, I developed two key feature concepts: Swap Tool and Filter Recipes, to help the users be more organised and flexible with the plan.
Inefficient to optimised
A critical part of the Shop experience is that the user can save hours spent every week going through the list of ingredients and portions.
The research data revealed that:
The average weekly grocery list for one person has 26 items

75% eat the same thing a few times a week

48% buy groceries online
Based on these insights, I proposed three key feature ideas: Shopping List, Edit Shopping Quantity and Buy Online.
The app automatically calculates the amounts of each ingredient based on the recipes it is used in, increasing amounts when you need to add extra portions - like for family members.
All in a tickable list that can be easily shared, or ordered online from local supermarkets.
Elaborated to simplified
This plan offers over 180 delicious recipes. But there is also the option to create 1000s of CYO (Create Your Own) recipes by combining ingredients from each food group (carbs, protein, fats).
The research data revealed that:
70% cook over 3 CYO (Create Your Own) meals per week

58% prefer recipes that can be batch cooked

Half of the recipes are never cooked
Based on these insights, I proposed two feature concepts: CYO (Create Your Own) and Batch Cook to help users be more efficient.
Central to the feature were these key ideas:
Make it easy for people to create and save their CYO recipes.

Support customers who like to cook their favourite recipes in bulk, helping them to save time and reduce food waste.
The next step is to reach out to the Joe Wicks team to show this project and my UX suggestions. I truly believe there are good research findings in here and some great design solutions.
Note: I do not work for, nor am I affiliated, with The Body Coach app. I created this UX case study because I am a designer who likes to solve problems and I wanted to show that The Body Coach program has the potential to connect with customers on a deeper level with better UX.